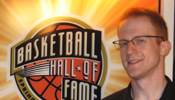 To book Steve, contact Barry Mackey at Next Round Entertainment

Steve Hofstetter is one of the few comics who is comfortable doing sports humor. He was even the only touring comedian to appear on ESPN's "Quite Frankly," where Steven A. Smith yelled at him for three minutes. His National Lampoon Radio Sports Minute (Or So) was a short syndicated in 170+ markets, and he's the author of "National Lampoon's Balls!" - National Lampoon's first sports humor book in 30 years.
Hofstetter has guest hosted on New York's WFAN, has been interviewed as a sports expert on CNN, was a two year humor columnist for Sports Illustrated, humor blogger for the NHL, and has written sports humor columns for the New York Times, Maxim, ESPN Mag, and others.
---
See what people are saying about Steve:
"Witty, hilarious writing. The perfect mix of sports and satire."
-Paul Fichtenbaum, Sports Illustrated
"More fun than watching Barry Bonds' head grow!"
-Jon Scher, ESPN The Magazine
"Steve Hofstetter's sports comedy is like regular comedy on steroids."
-Dale Jones, KVSA AM 1220 (McGehee, AR)
"More fun than a "Rally Monkey" with a cup full of change at ten cent beer night!"
-Norm Wamer, WLQR AM 1470 (Toledo, OH)
"Whether you're a rabid, know every stat fan, the guy that just watches the highlights on ESPN, or the goober that everybody tells to shut up when you start talking about sports, you'll get a laugh."
-Mike Allen, WYBB FM 98.1 (Charleston, SC)
"Steve's the man for hilarious play-by-play and comedic color commentary!"
-Francene, WHAS AM 840 (Louisville, KY)
"Regarded as one of the country's finest comedians."
-Portland Tribune
"Steve Hofstetter is one of the best comics I've seen."
-Corinne Heller, E! Entertainment Television
"Steve Hofstetter is that rare combination of funny and intelligent."
-Comedian Jim Gaffigan
"That's funny sh**."
-Adam Duritz, Counting Crows
"I love Steve Hofstetter more than I love Canned Pears...And I friggin love Canned Pears."
-Comedian Mitch Fatel
"Steve Hofstetter is hilarious, creative and cool."
-Comedian Alonzo Bodden
"Recommended if you dig Jerry Seinfeld, Robert Wuhl, Woody Allen."
-Atlanta Journal Constitution
"Steve Hofstetter is fantastic in an intergalactic way."
-Comedian Chris Rush
"Jokester Steve Hofstetter, may quickly become one of your favorite comedians."
-Tamara Ikenberg, Louisville Courier-Journal
"The Jewish comedian (who jokes about looking Irish and having a black adopted sister) comes across like a younger, edgier Jerry Seinfeld if he'd been influenced by the topical humor of the late Bill Hicks."
-Bret Love, All Music Guide
"Called the 'Thinking Man's Comic' and compared to a young Jerry Seinfeld by Jay Leno, Hofstetter is an up-and-comer."
-Karen Shade, Tulsa World