FREE ALBUM DOWNLOAD
Get your copy of "Dark Side of the Room" now

Los Angeles, CA Phoenix, AZ Louisville, KY Bowie, MD Orange County, CA
Indianapolis, IN Seattle, WA Tacoma, WA Marco Island, FL Dayton, OH
Ottawa, ON Toronto, ON Toledo, OH Lansing, MI


Tastes Like Bliss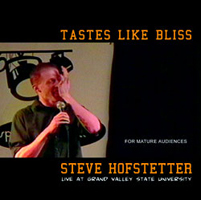 Recorded live at Grand Valley State University, Tastes Like Bliss is Steve Hofstetter's 60-minute self-bootleg of a college concert from 2004. Much sillier and lighter than Hofstetter's current material, the album appeals to fans of Hofstetter who prefer a less edgy side of him.

No shipping! Only $19.95!

ALBUMS

"Pick Your Battles"
(2011)
More...

"Steve Hofstetter's Day Off"
(2009)
More...

"The Dark Side of the Room"
(2008)
More...

"Cure For the Cable Guy"
(2006)
More...

"Tastes Like Bliss"
(2004)
More...

BOOKS

"National Lampoon's Balls!"
(2007)
More...

"Student Body Shots - Another Round"
(2005)
More...

"Student Body Shots"
(2002)
More...

SHIRTS

"Redophile"
More...

"Ask Me Why I'm a Douche"
More...

"Your Stupidity Offends Me"
More...