FREE ALBUM DOWNLOAD
Get your copy of "Dark Side of the Room" now

Los Angeles, CA Phoenix, AZ Louisville, KY Bowie, MD Orange County, CA
Indianapolis, IN Seattle, WA Tacoma, WA Marco Island, FL Dayton, OH
Ottawa, ON Toronto, ON Toledo, OH Lansing, MI


Cure For the Cable Guy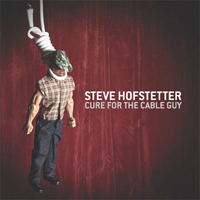 Recorded live at the M-Bar in Hollywood, Cure for the Cable Guy is Steve Hofstetter's first official release, and reached #20 on the Billboard comedy charts. Owing its title to a track where Hofstetter discusses the ignorance that Larry the Cable Guy breeds, the 45-minute dvd/cd was reviewed favorably by everyone from the Atlanta Journal-Constitution to the Washington Post.

No shipping! Only $19.95!

ALBUMS

"Pick Your Battles"
(2011)
More...

"Steve Hofstetter's Day Off"
(2009)
More...

"The Dark Side of the Room"
(2008)
More...

"Cure For the Cable Guy"
(2006)
More...

"Tastes Like Bliss"
(2004)
More...

BOOKS

"National Lampoon's Balls!"
(2007)
More...

"Student Body Shots - Another Round"
(2005)
More...

"Student Body Shots"
(2002)
More...

SHIRTS

"Redophile"
More...

"Ask Me Why I'm a Douche"
More...

"Your Stupidity Offends Me"
More...